30

April
Blog
Project Management: For Short Films
First, I say this is for Short Films, and yes, this is true, but you can also use this for commercial projects like 30s, 60s, 120s, 28:30 infomercials, or anything that requires a large project and management.  Highly customizable.  Use what you need.
I find it extremely helpful to have a consistent structure in place before starting a new project. And over the years, I struggled with nailing down a set project system. It was convoluted, messy and I dreaded going back into older projects. So I set out to find something and stick to it. I think I've found it. It works for me, hopefully, it will help you too.
With that, let's take a deep dive into how I structure a project, and at the very end, I'll show you a little trick to make a project folder structure quickly by automating it.
The less time you spend setting up a new project, the more time you can spend on what you do best – creating!
First off, it's a mess.  What's what? Who's the client?  When was it created? Who created it!?
Again, every studio will have their own way of naming projects, but they'll all likely have the same commonality.  All this makes it super easy to track later, too.
(JOB-NUMBER)_(CLIENT)_(PROJECT-NAME)_(DATE)_(USER)
It would look something like this:
001_MGH_PROJECT-NAME_2020-01-01_Marsgohome
If you're dealing with footage shot by yourself or anyone else, this is the folder in which to put all the raw footage.  So let's create a few sub-folders.
This can get a bit crazy – depending on the different kinds of programs you're using.  Just create folders for each PROGRAM you use. I work in an Adobe Environment so here's what mine look like.
I want to back up a bit and focus on the WORKING and MASTER files for the Premiere folder.  As mentioned before, I prefer to work in steps.  Meaning, edit, picture lock, sound, graphics, and VFX. These would be considered Working project files.
The B – Master would be the final project file you'd use to push out the Master Render.
These are just assets you'd bring in. Again, user and project-specific. This is where I would put any artwork provided by the client, JPGs, PNGs, MOV-rendered elements, and Stock Footage. Here's what I have created for me:
This can be a monster too, but we need to give this area the attention it deserves – after all, the sound is 80% of the video.  In true fashion its in order. Incoming to Outgoing.
I'd like to go over the E – Editorial real quick.  Just like my Premiere working project files, I do the same with Audio edits, with sequential project saves with the coding system below:
This is a super dull area but equally important.  This is where the scripts go. Any important documents, references, contracts, and legal stuff.
This is just a holding place before a file goes to the trash.  Quick renders to see if it looks good, but not worth keeping. Anything…temporary.
FREE STUFF
DOWNLOADS
Get it Boi!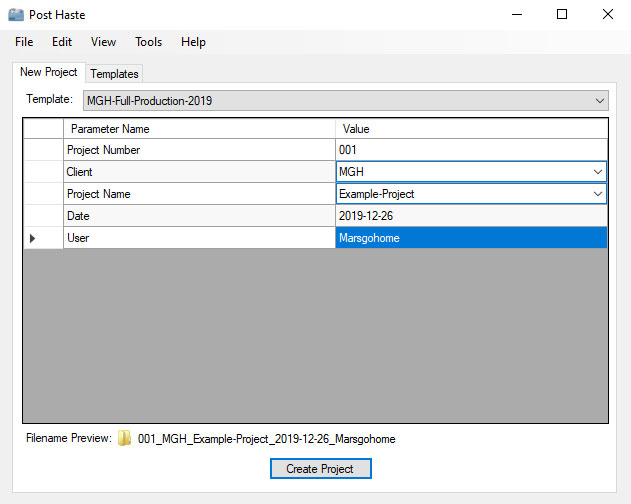 As promised, here are some goodies.
Digital Rebellion has created a badass little program that can quickly make Project folders with a button click. It's called Post Haste.  The best part?  It's FREE!
(No affiliation – love this free little program)
MGH Project management
folder structure
PR AE PS AU
Now, because I love you, I will also provide y'all the Post Haste template of my Project Folder setup. It comes with every folder explained in this article. You can use Post Haste or store it locally on your system and copy it.
Project Management Folder Structure – Lite
Project Management Folder Structure – Pro